School Stands, on wheels, white, 15 connectors

-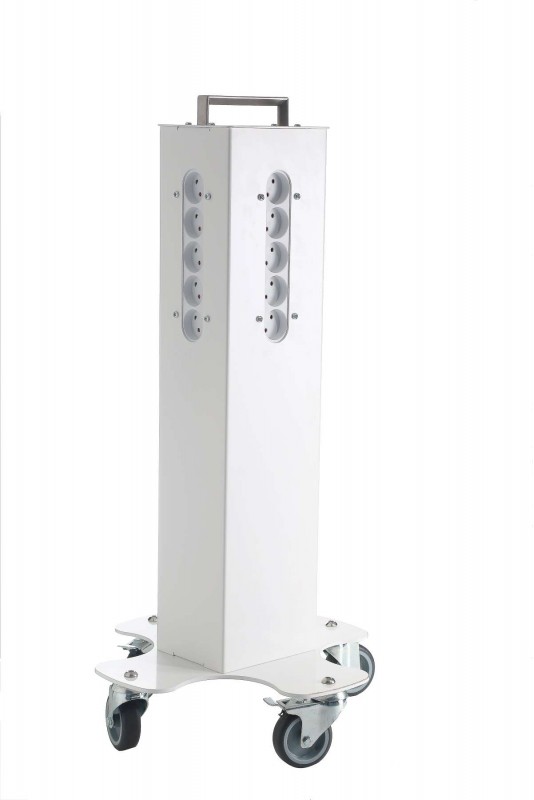 School Stands, on wheels, white, 15 connectors
Max load 10A / 2.300W


Ordering only by mail or phone:
Remember to state which type of connector you want to install!
NOTE! If this is not stated, DK-Plugs will be fitted!
School Stands, Flexibility in classrooms, 15 connectors. 
The flexible classroom solution, mobile electric stands, can be set up where electricity is needed.

Specifications
Base diameter round foot: 400 mm. (Bottom plate)
Wheel diameter: Ø75 mm. (2 pcs. with and 2 pcs. without brake)
Depth: 165 x 135 mm. (House)
Weight: 13 kg.
Height: 687 mm.
Material: White painted steel, Ral 9016
Max current load: 10A/2,300W
Connector: 15 pcs.
Cord: 8 meters


All models:
JB 680-400-15-UH Without wheels, white, 15 connectors
JB 680-400-15 On wheels, white, 15 connectors.


The school stand can be supplied as standing or on wheels. 

The stand is standard, with 15 sockets distributed on three sides. 
Handle for cable reel. 
10-meter wire. 
It can be supplied with Schuko plugs. 
Made of necessity – designed to last.
JB-Medico makes a difference in the design and advice of hygienic suspension solutions for:
Healthcare, food and pharmaceutical industry
Hospitals, medical centres, chiropractors and dentists
Physiotherapists, schools and laboratory


JB-Medico adapts solutions to all clinical departments.
---
We hope you can enjoy our products
Contact us for advice and offer on hospital equipment, by phone +45 7020 5826 or send us an email at
info@jbmedico.com
Made of necessity – designed to hold.
Materials

Metal

Colour

White (RAL9016

Weight

CE MARKED

Yes

Country of origin

Danish
School Stands, on wheels, white, 15 connectors, JB 680-400-15
You might also like
JB 680-400-15-UH
School Stands, without wheels, white, 15 connectors, JB 680-400-15-UH
1 other product in the same category:
JB 680-400-15-UH
School Stands, without wheels, white, 15 connectors, JB 680-400-15-UH