Pom bushings, hole size Ø16 mm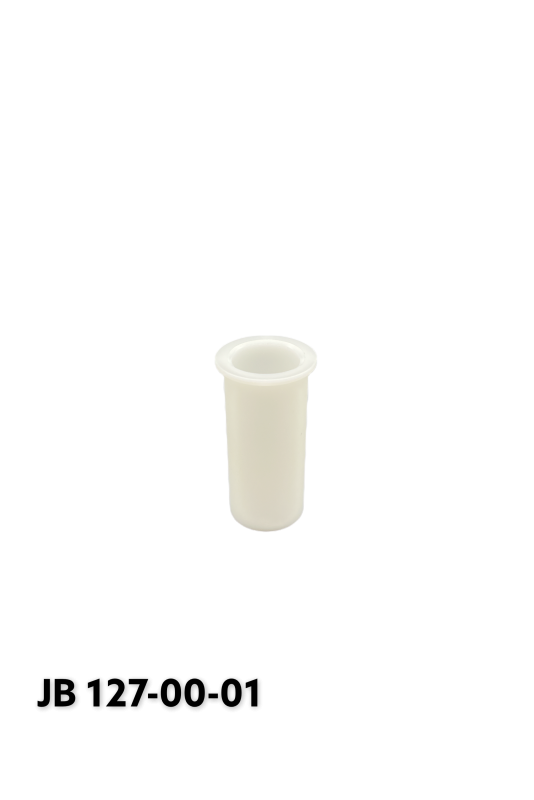 Plastic bushing with Ø16 mm. hole fits Ø18 mm. holes.
Minimum quantity for sale 10 pcs.

Please check the diameter of the shaft; it is typically one of the three diameters below.
If not, call or write for a quote on other dimensions.

Bushings for i.a. lamp clamps in 3 sizes.
JB 128-00-09 (Ø9.6 mm.)
JB 128-00-01 (Ø13 mm.)
JB 127-00-01 (Ø16 mm.)

Bushing We have standard fittings and extra solid medical rail claws that make it possible to place lamps on a trolley or other running equipment on medical rails and tables.
JB 127-00-01 can be used to advantage, among other things:
1.  IV-Pole on bedside wall panels.
2.  Flat-screen arms
3.  Medical equipment
4.  Medical lighting
5.  Column tube/rods
Medical Rail Clamps, Sliding Clamps Medical rail clamps. 
For attachment of hospital equipment, medical rail clamps are used for the equipment rail located on the wall or bedside panel.
Durability hygiene and rail-mounted.
JB-Medico makes a difference in the design and advice of hygienic suspension solutions for:
Healthcare, food and pharmaceutical industry
Hospitals, medical centres, chiropractors and dentists
Physiotherapists, schools and laboratory
JB-Medico adapts solutions to all clinical departments.
---
We hope you can enjoy our products
Contact us for advice and offer on hospital equipment, by phone +45 7020 5826 or send us an email at
info@jbmedico.com
Made of necessity – designed to hold.
Brand

Materials

Plastic PE (LLDPE Soft Polyethylene)

Colour

White

Size

Length 46.5 mm.

Diameter

Ø16X18 mm.

UNSPSC code

42191603

Country of origin

Danish
You might also like
JB 22-00-05
Brass bush, Ø20 mm hole, for example fixing device and arm series.
16 other products in the same category:
JB 400-00-36
Spacer to two types of wall rails, length 36 mm. aluminium
JB 205-00-00
Fixing device for rail clamps and multi brackets, Ø25 mm hole.
JB 29-00-00
Pipe, Stainless Steel, Ø20 x 600 mm.
Regular price
kr.700.00
-kr.200.00
Price
kr.500.00
JB 239-00-00
Catheter container holder 400 mm. T-slot holder
JB 800-00-00
With "New HandsUp", the staff can finally see the sizes of the gloves that are always written out on the sides of the boxes!
JB 170-00-00
Bracket for Sharps containers, square, 96x96 mm, 1-litre containers
JB 290-01-00
Oxygen & Gas cylinder holder, top for Ø117 mm cylinders.
Regular price
kr.500.00
-kr.100.00
Price
kr.400.00
JB 400-20-OL
Scoop holder in black POM and stainless steel for Olympus Scopes
JB 162-00-00
Mask & tubing hook, With a guide for T-track Brackets, Stainless Steel (AISI 304)
JB 94-00-00
Stainless adjustable handle M6X20 mm.  Length can be shortened!
JB 252-00-00
JBM Massive Aluminium DIN 10x25mm Equipment Rail.