SHARPSAFE CONTAINER, 4 LITRE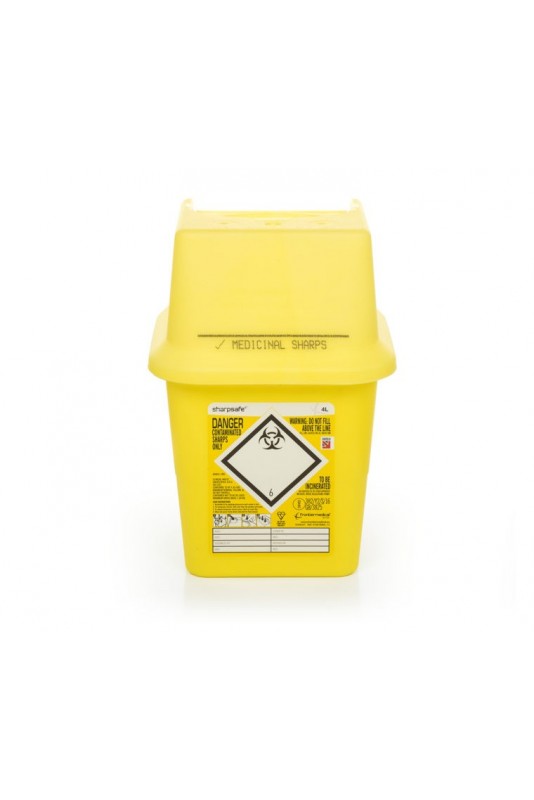 "This item can not be returned *
       Minimum Sales: 50 pcs.
SHARPSAFE 4 LITRE The 4 Litre
provides the ideal combination of cost-effectiveness and portability in areas of low to medium usage.
A wide aperture allows the easy disposal of needles and syringes
A translucent lid with clear internal flap and visible fill line help ensure that the 4 Litre is not overfilled.

FEATURES AND BENEFITS
4L Nominal Capacity Clear, self activating inner flap ensures safe disposal.
Semi Translucent Lid – contents visible when full.
In-mould label – offers permanent audit trail which cannot be removed.
Large Fill Area Temporary & Final Closure
Feature Simple 4 Click Assembly
Clearly visible fill line
SPECIFICATION
Dimensions: L 175mm x W 175mm x H 245mm
Capacity: 4L
Usable Capacity to Fill Line: 3.2 Litre
Weight 320g
Complies with UN 3291, BS EN ISO 23907:2012 and NF-X-30-511 standard
Carton Quantity: 50 Carton
Weight 16.75kg
Carton Dimensions: H 420mm x W 360mm x L 850mm
Carton Volume: 0.125m3
---
We hope you can enjoy our products
Contact us for advice and offer on hospital equipment, by phone +45 7020 5826 or send us an email at
info@jbmedico.com
Made of necessity – designed to hold.
Materials

Polypropylene (PP)

Volume

4000 ml.

Colour

Yellow
You might also like
JB 31-527-30-01
3.0 litre USON Sharps Container yellow, special with large opening in lid
JB 31-543-08-01
Multi-Safe quick S 2000
JB 31-543-10-01
Multi-Safe quick S 2500, round disposal container 2.5 l, with oval opening, yellow lid
16 other products in the same category: