Wet Wipe MAXI, Chlorine Disinfection disposable wipes, disinfection, 43 x 30 cm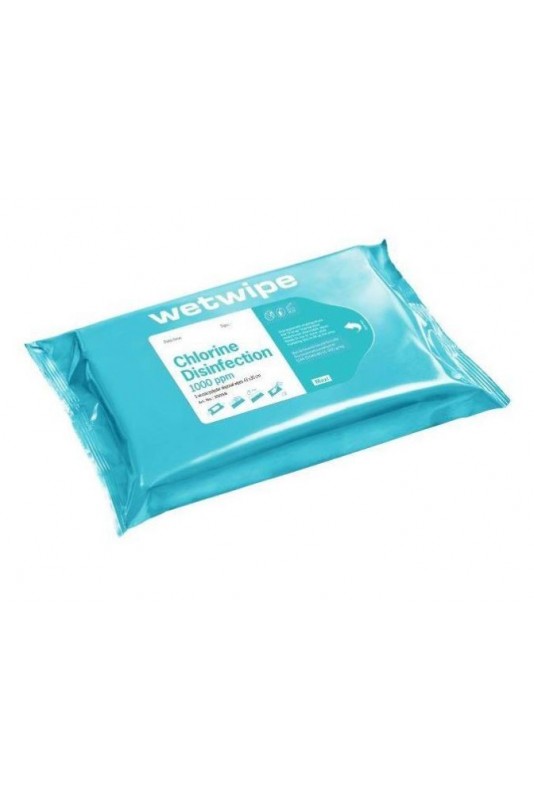 "This item can not be returned *
The minimum purchase order quantity is 24.pcs:
Disposable cloths with chlorine, water and soap
Wet Wipe Disinfection disposable wipes are impregnated with powdered chlorine. The package contains a cracking bag with water and soap. When the bag is broken, the water / soap solution runs out into the cloths which are ready for use after 7 minutes.
With Wet Wipe Disinfection with chlorine, water and soap you get an optimal and simple disinfection compared to traditional disinfection methods.

Content
H2O & gt; 97.00%
Detergent & lt; 0.50%
Active chlorine 1000-1200 ppm

Application
Effectively disinfects against Clostridium difficile, all known virus families, bacteria, spores, mold and yeast fungi as well as encapsulated viruses (HIV and Hepatitis B). Used for disinfecting equipment, fixtures and contact points in patients in isolation and on all surfaces that can withstand chlorine. 10 minute contact time.
---
We hope you can enjoy our products
Contact us for advice and offer on hospital equipment, by phone +45 7020 5826 or send us an email at
info@jbmedico.com
Made of necessity – designed to hold.
Wet Wipe, MAXI, disinfection with chlorine, water and soap, 43 x 30 cm.
You might also like
41153
Wet Wipe Maxi, Universal – A disposable wipe containing water and soap, 43×30 cm
JB 72-888-34-01
Antibac, 75% vådservietter, overfladedesinfektion, 210x210mm
JB 72-888-31-01
Incidin 70%, wet wipes for surface disinfection, 195 x 210 mm
16 other products in the same category: