3.0 litre USON Sharps Container yellow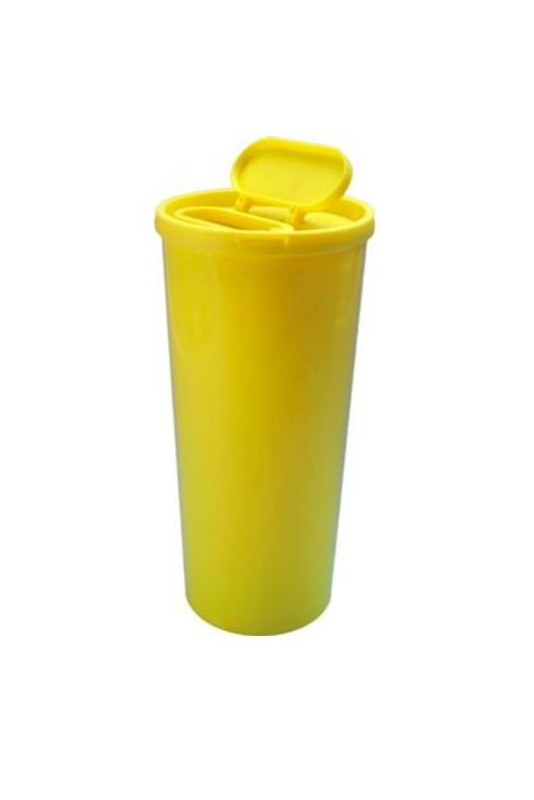 * This item cannot be returned *
Minimum Sales: 50 pcs.
3.0 litre USON Sharps Container
This USON 3,0 litre Sharp Containers is designed for hospitals and health care institutions to dispose of syringes, scalpels and other types of sharps. It is designed to maximise safety whilst still maintaining a barrier to protect the user and prevent spillage during use.
Different lid designs give the possibility to discharge needles, syringes and other types of sharps.
USON sharps containers meet the UN requirement no. 3291 regarding packaging approved for transportation of dangerous goods (waste/disposal)
• Produced in Denmark according to ISO 9001 Standards
• Products are made of environmentally friendly, strong and durable Polypropylene
• Design and manufacturing secure a high degree of safety
• Different designs of lid are provided for different applicability
• Reversible closure can be safely fixed
• Containers are waterproof when closed
• Standard colours are yellow and yellow transparent
• Products are made with a private label and own colour when ordered in large quantities
• Containers can be supplied without UN certificate (for less
---
We hope you can enjoy our products
Contact us for advice and offer on hospital equipment, by phone +45 7020 5826 or send us an email at
info@jbmedico.com
Made of necessity – designed to hold.
Volume

3000 ml.

Colour

Yellow
3.0 litre USON Sharps Container yellow, special with large opening in lid
You might also like
JB 31-543-10-01
Multi-Safe quick S 2500, round disposal container 2.5 l, with oval opening, yellow lid
16 other products in the same category:
JB MED-003
Severo Grinding Sheets, Rondels
Regular price
DKK 265.00
-DKK 87.50
Price
DKK 195.00
JB 72-887-32-01
Ceduren, chlorhexidine alcohol 85% hand disinfection with glycerin, 1000 ml.
JB 69-02-03
Abena Hand Disinfection Liquid 85%, 1000 ml
JB 72-888-34-01
Antibac, 75% vådservietter, overfladedesinfektion, 210x210mm
JB 15-07-39-02
Hand soap, Derma Health, 1,000 ml, without colour and perfume
JB 29-20-23-02
Hospital alcohol 70%, 5 liters dunk / 4 pcs in carton