Adjustable Arm, 2-8 kg. Stainless steel, with an outer lock

-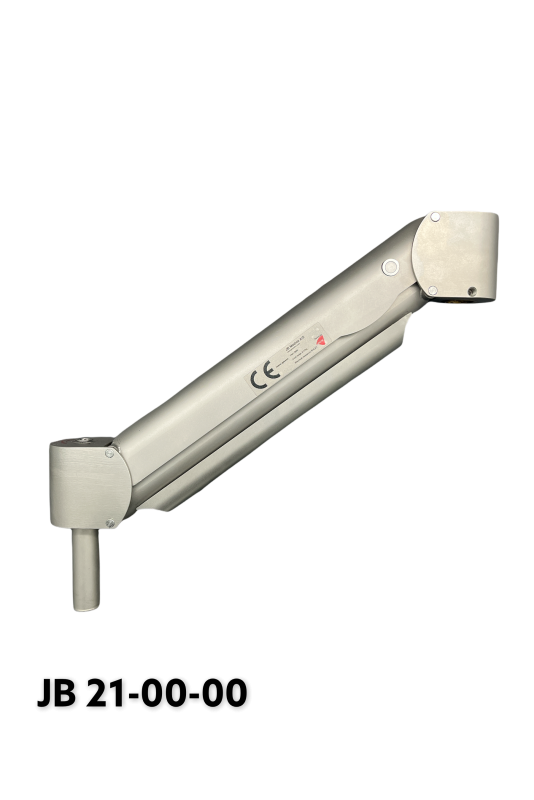 Adjustable Arm, 2-8 kg. with an outer lock
Mounting on a: wall, table, ceiling, wall rails and equipment etc.
Can potential adjustment.
Available with all necessary accessories CE marked.


Specifications
Net Weight: 2.3 kg.
Lifting height: 382 mm.
Range: 334 mm.
Material: Stainless steel. (AISI 304)
Made to customer requirements.

Flat-screen arms Ergonomic Swivel Arms for Assembly of Various, Medico and IT Monitors

JB Medico Customizes Solutions to All Clinical Departments!
Our flat screen arms have already got thousands of screens to "float", and with a JB Medico arm, your laptop can now also be "floating".

Combining your laptop screen with a separate keyboard and mouse allows you to achieve great ergonomic benefits.

Both the keyboard and the screen can place precisely the height and distance that suits you.

All our ergonomically swivel stainless steel can: 
The grounding and equipotential COMPENSATED by power legislation Section 6


Made of necessity – designed to last.
JB-Medico makes a difference in the design and advice of hygienic suspension solutions for:
Healthcare, food and pharmaceutical industry
Hospitals, medical centres, chiropractors and dentists
Physiotherapists, schools and laboratory


JB-Medico adapts solutions to all clinical departments.
---
We hope you can enjoy our products
Contact us for advice and offer on hospital equipment, by phone +45 7020 5826 or send us an email at
info@jbmedico.com
Made of necessity – designed to hold.
Brand

Materials

Messing
Stainless Shot Peening Steel (AISI 304)

Colour

Grey

Weight

Net weight: 2.3 kg

Electrical conductivity

Yes

UNSPSC code

31162506

CE MARKED

Yes

Meet requirements, directive (EU). 2017/745, Annex1

Yes

Country of origin

Danish
You might also like
JB 21-00-15
Adjustable Arm, 8-18 kg. with an outer lock.
JB 27-00-00
Monitor Bracket, Ø20 mm, Stainless Steel. VESA 100X100 mm / 75X75 mm.
1 other product in the same category:
JB 21-00-15
Adjustable Arm, 8-18 kg. with an outer lock.