Suspension Tray for medical equipment, Stainless Steel, Ø20 mm

-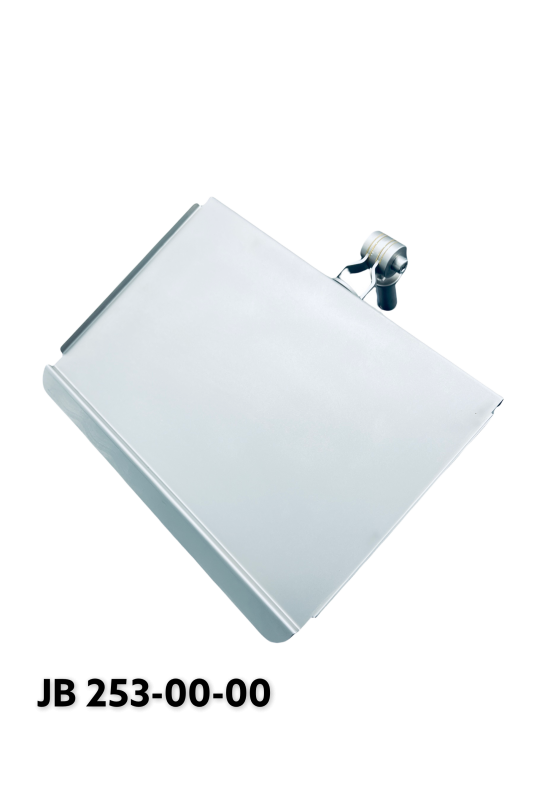 Suspension Tray for medical equipment, Stainless Steel, Ø20 mm
Made to customer requirements.
Fits all our brackets with a 20 mm. hole.
Specifications:
Width: 370 mm.
Depth: 250 mm.
Height: 142 mm.
Weight: 2.2 kg.
The plate can be tilted -25 ° / + 115 °
Material: Stainless steel. (AISI 304)

Available with adjustable handle= (JB 46-00-00)
The Umbraco bolt is standard


Laptop and ergonomics have, until recently, seemed incompatible;
• If the tray is located within the right distance, the screen is too close and vice versa!
• If the keyboard is at the right height, the screen is too low and vice versa!
The result of the old, wrong solution is a locked and inexpedient working position, hour after hour, day after day. 
These problems are fixed with JB Medico's laptop arm!


All our ergonomically swivel stainless steel arm series can:
The grounding and equipotential COMPENSATED by power legislation Section 6
Flat-screen arm accessories
The market's most robust and hygienic suspension solution for IT jobs
It can be installed without tools and may be washed and disinfected in the instrument dishwasher.
Made of necessity – designed to last.


JB-Medico makes a difference in the design and advice of hygienic suspension solutions for:
Healthcare, food and pharmaceutical industry
Hospitals, medical centres, chiropractors and dentists
Physiotherapists, schools and laboratory


JB-Medico adapts solutions to all clinical departments.
---
We hope you can enjoy our products
Contact us for advice and offer on hospital equipment, by phone +45 7020 5826 or send us an email at
info@jbmedico.com
Made of necessity – designed to hold.
Brand

Materials

Glass-blasted stainless steel (AISI 304)

Colour

Grey

Size

Weight

2,2 kg.

Electrical conductivity

Yes

UNSPSC code

31162506

CE MARKED

Yes

Meet requirements, directive (EU). 2017/745, Annex1

Yes

Country of origin

Danish
1 other product in the same category: