Small stainless electro-polished box with T-track bracket

-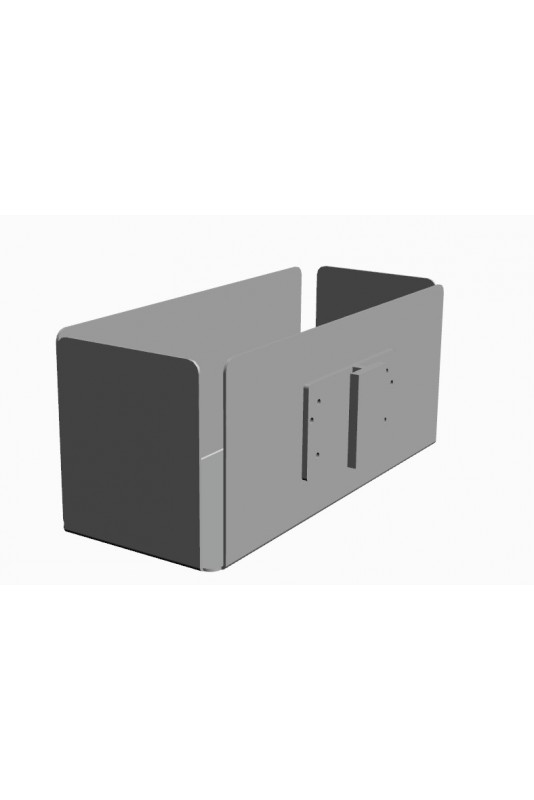 Small stainless electro-polished box with T-track bracket
The minimum quantity for sale 2 pcs.
Specifications
Height: 100 mm.
Width: 240 mm. (without T-track)
Depth: 100 mm.
Weight: 1.2 kg.
Material: Stainless steel (Electropolished)

Equipment rail and accessory rail are the same things.
The rail allows for adding accessories to mobile carts, bedside tables, EPR tables, fume hoods, laboratory setups, and more.

JB-Medico integrates the equipment rails in many situations, allowing users to move the equipment around as it is mounted on the equipment rail with a bracket that does not require using tools.

If you want to know more about the solution, we are ready to help.
It can be mounted and dismounted without using tools.
For easy and comfortable manoeuvre, and can be washed and disinfected in the dishwasher. 
Durability hygiene and rail-mounted
---
We hope you can enjoy our products
Contact us for advice and offer on hospital equipment, by phone +45 7020 5826 or send us an email at
info@jbmedico.com
Made of necessity – designed to hold.
Brand

Materials

Electropolished stainless steel (AISI 304)

Colour

Metal

Weight

400 gram.
You might also like
JB 161-02-01
Wire basket 15 Liters, conical, hook for T-slot
16 other products in the same category:
JB 901-70-1000
Hand sanitiser 70% 1,000 ml. bottle, REFILL with 1% glycerin
Regular price
kr.52.00
-kr.24.00
Price
kr.28.00
JB 400-00-18
Spacer to two types of wall rails, length 18 mm. Material: Aluminium
5387PJC100P30-13
Swivel Castors with total lock 100 mm, Stainless Levina
JB 315-89-31
Klinion Easycare, 11 L Sharp Container yellow, easy syringe detachment
JB 286-00-18
Spacer to two types of wall rails, length 18 mm. Stainless Steel
JB 158-00-00
Multibracket can be turned upside down, fit from 16-41mm.
JB 50-213-102
Dispenser, 6 cm long arm, drip tray and adapter bracket.
JB 69-18-02
Hand disinfection, gel, with pump, 85% ethanol, 600ml
JB 902-00
HOLD-ON STRAP, 840 mm. Moulded EPDM strap with stainless hooks AISI 304
JB 248-00-00
End Caps for Medical Equipment Rails Scandinavian Standard 10x30mm
JB 32-07-05
Counterweight in 10 mm. stainless steel, weight 7.5 kg.
JB 248-19-206
Tablet / Ipad holder, mounted with rail clamp 10x30 mm. 
JB 16-05-40-02
For Wet Wipe MINI Disinfecting and Universal Cloths