Swivel Castors with total lock 100 mm Stainless, Levina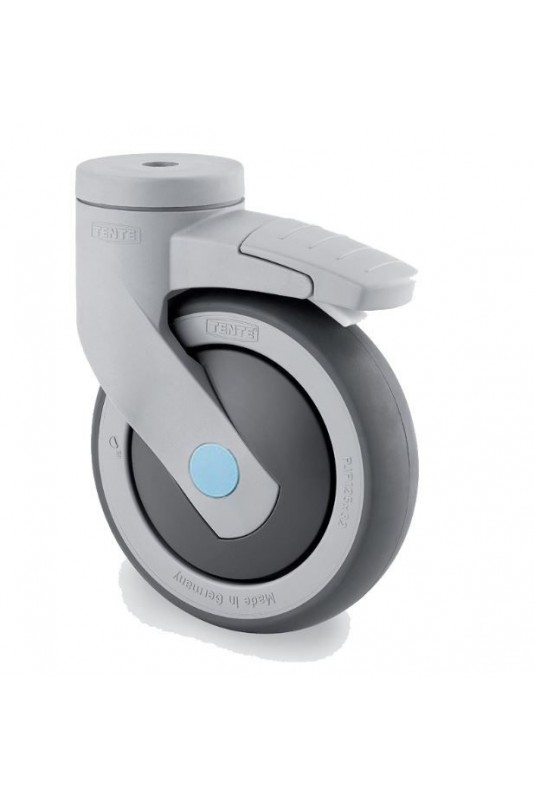 Swivel Castors with total lock 100 mm, Stainless Levina
JB Medico now sells a selection of Tente wheels that we have used on our own products for many years.

Specifications:
Wheel-Ø: 100 mm.
High quality plastic fork
All metal parts of stainless steel
Swivel ring with double ball ring.
Centre hole Ø-13 mm.
Wheel rims: Polypropylene
Wheelbase: TENTEprene, grey thermoplastic rubber, non-slip
Stainless steel DIN ball bearing
Load (dynamic): 100 kg.
Weight: 0.43 kg.
Made of necessity – designed to last.
JB-Medico makes a difference in the design and advice of hygienic suspension solutions for:
Healthcare, food and pharmaceutical industry
Hospitals, medical centres, chiropractors and dentists
Physiotherapists, schools and laboratory
JB-Medico adapts solutions to all clinical departments.
Follow Jb Medico on Facebook.
---
We hope you can enjoy our products
Contact us for advice and offer on hospital equipment, by phone +45 7020 5826 or send us an email at
info@jbmedico.com
Made of necessity – designed to hold.
Materials

Polypropylene (PP)

Diameter

Centre hole: 13 m
Wheel diameter: 100 mm

Temperature

- 10 / + 40 gradc

Standard

EN 12530

Swivel Radius

98 mm

Electrical conductivity

No

Housing

Swivel Castors with total lock

Stainless

Yes

UNSPSC code

42192405
Swivel Castors with total lock 100 mm, Stainless Levina
You might also like
5380PJC100P30-13
Swivel castors 100 mm. Stainless steel, (Levina) Gray
5380XSC100P30-13
Swivel castors 100 mm. Stainless steel, Electrically conductive
4 other products in the same category:
5380XSC100P30-13
Swivel castors 100 mm. Stainless steel, Electrically conductive
5380PJC100P30-13
Swivel castors 100 mm. Stainless steel, (Levina) Gray